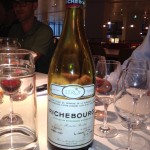 My favourite from a vertical of Domaine de la Romanee Conti was the 1983 Richebourg, where according to Robert Parker the individual grapes were hand picked!
Here is the text from the film Sideways (2004)
Can we really open anything we want? – Yeah,yeah. Anything
Uh, except the Richebourg.
Richebourg? She has a Richebourg? Holy mackerel.
I've completely underestimated Stephanie.
Oh, good Lord. Um, look at that.